Reviews
Well, the life of hotel or restaurant owners and managers would be a lot less stressful without them! But reviews are a fact of life. The difference nowadays, of course, is that there isn't a recognisable set of professional authorities writing guidebooks and filling newspapers.
Today everyone is a critic, via TripAdvisor, Google Reviews, Booking.com or myriad others. In fact the range has become so diverse and reviews in general are so ubiquitous that we are rather less anxious about the whole subject than we used to be. Our guests (and potential guests) are almost certainly savvy enough to pick through the barrage of information, in order to find what is helpful and relevant to them.
I think I only have one genuine 'pet hate' on the subject – a review from someone who has come many times before and always had a pretty good time; but who has one disappointing experience and decides, for the first time, to take on the role of armchair critic. That's a customer we really don't need! Everything else we welcome – good reviews are morale-boosting and constructive criticism (although I obviously prefer it to be sent direct) can be really helpful too.
John Hoskins
English Tourism Council (Visit England).
VisitEngland's Gold and Silver awards are given "in recognition of exceptional quality within a property's star rating, or for outperforming a star rating". Only around 60 hotels a year receive this award. The Old Bridge has had Gold Award status for 10 years.
We also have a special 'Breakfast Award' from Visit England.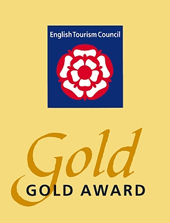 The Sunday Times
In November 2016 the Sunday Times listed The Old Bridge as one of the best 25 wine bars in the UK. Whilst we aren't strictly a 'wine bar' we do serve lots of wine by the glass, bottle and by the 25ml taster in the wine shop. So we were delighted to be put alongside such excellent names as Sager & Wilde, The 10 Cases and other (invariably urban) wine destinations.
Co-incidentally in the same year the Old Bridge Wine Shop was listed as one of the top 10 independent wine merchants by Harpers – the key wine trade magazine.

The Good Hotel Guide
"When the proprietors are a Master of Wine and an interior designer, you can count on a smart bedroom and a decent vino. So it is at Julia and John Hoskins's ivy-clad hotel, centred on a Georgian house, with the Great Ouse flowing just behind. 'Excellent,' reports a trusted reader after a visit this year. 'It was a pleasure to stay'……."
Trip Advisor
Trip Advisor is often seen as a mixed blessing for hotels and restaurants. Armchair reviewers can be very subjective and occasionally completely unfair. But the majority of reviews are honest and we can learn from negative as well as positive feedback. Overall we manage to get the 'Certificate of Excellence' rating so we are of course delighted with that….! Thank you to anyone who has been kind enough to give us their endorsement.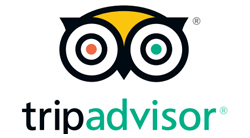 The Good Food Guide
"An 'ivy-clad heaven, with a riverside garden full of folk', this converted eighteenth-century bank has smart-casual hospitality down to a fine art – especially in the breezy, open spaces of the conservatory dining room.
A perfectly pitched dish of meaty skate wing with samphire, sorrel, lemony crushed Jersey Royals and asparagus is the distillation of springtime in England, while pleasurable Mediterranean themes shine through in plates of tangy-sweet bresola, chilli-spiked linguine with Dorset crab, or venison with confit garlic, cavolo nero and beetroot sauce.  Neal's Yard cheeses are kept in peak condition  and desserts such as Amaretto parfait gilded with threads of syrupy orange peel provide an effortless finish.
Oenophile owner John Hoskins MW has put together a barnstorming global list that positively encourages adventurous sampling – thanks to 'flat' mark-ups, more than two-dozen brilliant selections by the glass and oodles of sub-£30 choice.  Don't leave without browsing the wine shop."
The Daily Telegraph
"Clare Ferrier hits the jackpot at The Old Bridge Hotel, Huntingdon, where the attention to detail is second to none.
There can't be many buildings as hirsute as The Old Bridge in Huntingdon, which has a facial covering of ivy so dense that it has had to be trimmed rigorously in order to reveal Georgian windows and a door with a handsome stone stair leading down to the street…….."